Best Eye Specialist Doctors in Patna
Best Eye Specialist Doctors in Patna
List of Best Eye Specialist Doctors in Patna.Find Doctors Fees Details,Doctor Clinic Address & Doctor Contact Numbers and Book Eye Specialist doctor appointment Online in Patna
Eye Specialist doctor Consultation Fee in patna
The doctor consultation fee of Eye Specialist in patna varies depending on the credibility and experience of the doctor. Generally, the consultation fee of these doctors ranges approximately between Rs. 100 to Rs. 1500 or more. You may be charged an additional fee for tests and examinations by the respective general physician.
How Can doctorsinpatna.com portal Help in Finding the Best Eye Specialist Nearby?
On doctorsinpatna.com, you can know who 'the best Eye Specialist near me' are as you get a list of Eye Specialist doctor in patna. In addition to the address and contact details of these doctors, you also get additional details such as the ratings and reviews they have received from other patients, their hours of operation, facilities available, etc. These details help you make an informed decision. Adding filters such as popularity, ratings, distance, etc. narrow the search results further.
Are you worried that you may fall ill at any hour? Would you like to have a complete online guide of Eye Specialist doctors in a Patna with a comprehensive list of reputable names? We are an online list of Eye Specialist doctors in Patna that is known for offering faster and efficient healthcare to patients. Our Eye Specialist doctor's directory features the top Doctor of patna . The pool of medical doctors known all over the country for achieving best results with patients. Top rated and best doctors near you and those around the city can serve patients via our website. With the best and most efficient team of medical professionals in Patna , doctorsinpatna.com can help you find best doctors at a nearby location in Patna. Choose us to get the best service from a top rated doctor in Patna!
Appointment with Best Eye Specialist Doctor in Patna Now Easy
We provide top rated Eye Specialist Doctor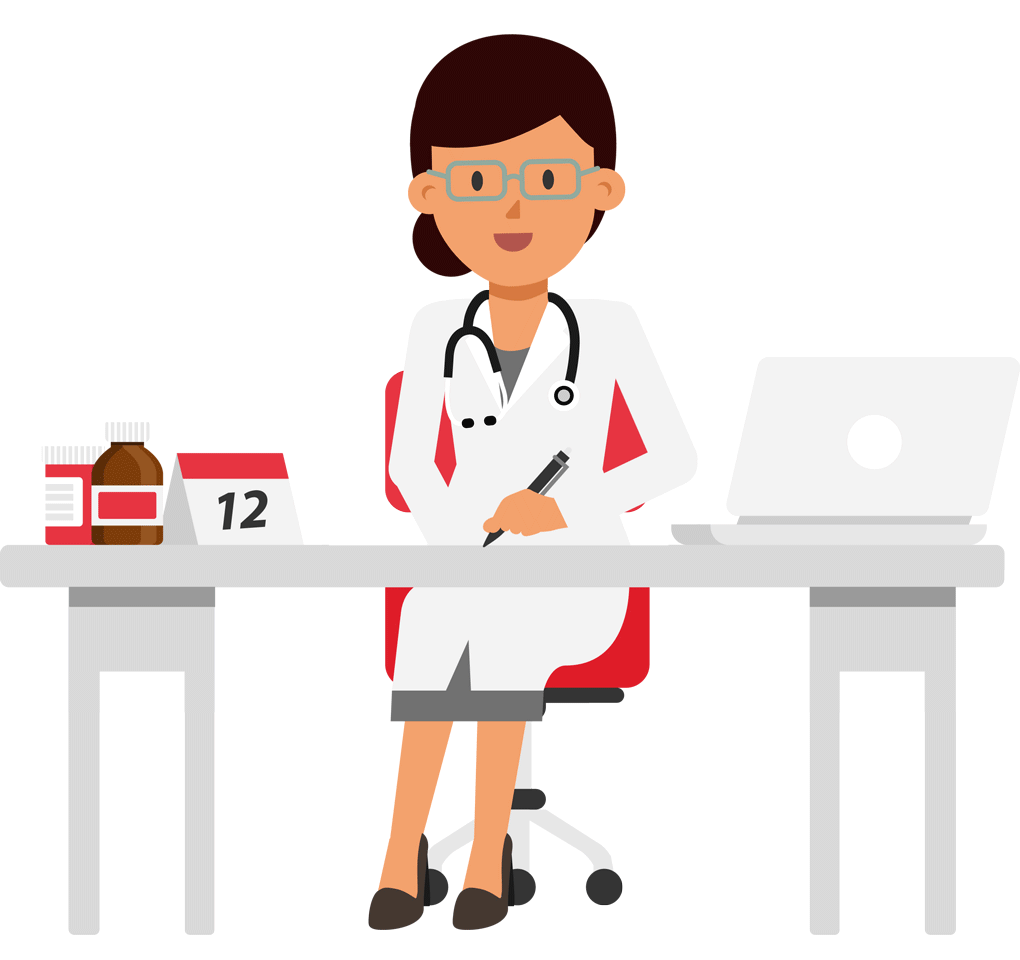 #01.

Search for Eye Specialist Doctor in Patna

Search over top verifyed Eye Specialist Doctor that match your criteria.

#02.

View Doctor Profile

View Doctor introduction and read reviews from other customers.

#03.

Easy Doctor Appointment

Connect with your best Eye Specialist doctor in patna via chat or video call!
Eye specialist is an alternative name of ophthalmologist who is specialized eye doctor proficient in diagnosing and treating eye related diseases. Eye conditions like cataract, glaucoma, retinal disorder, macular degeneration, diabetic eye problem, and, eye infection are well diagnosed and treated by eye specialist. From prescribing medicine to glasses to contact lenses they are also trained in minor to major eye surgeries. Patients can find top eye specialist at doctoriduniya and book online appointment to consult with them.
An ophthalmologist or an eye specialist is an eye doctor who is specialized in eye care, diagnosing, and treating diseases of the eye. Ophthalmologist, also known as an eye specialist, eye doctor, and eye surgeon. Ophthalmologist commonly treats health problems and diseases such as Eyestrain, Red Eyes, Night Blindness, Lazy eye, or amblyopia, Cross Eyes (Strabismus) and Nystagmus, Colorblindness, Uveitis, Blurred vision, Presbyopia, An injury to the eye, dry eyes, Inflammatory disorders of the eye, Excess Tearing, Cataracts, Glaucoma, Retinal Disorders, Diabetic retinopathy, Corneal Diseases, Eyelid Problems, Vision Changes, Problems With Contact Lenses, Conjunctivitis and cataract surgery and many more. Patients can consult online with an Ophthalmologist for non-emergency eye problems, advice, for the second opinion of an Ophthalmologist, and for follow-ups cases.
When to consult online with an ophthalmologist-
•Patient should have to consult pulmonologists when they have following signs and symptoms like Blurry vision, Diabetes, Eye injury, Eye pain or redness, Cross eyes, Drooping upper eyelid, Dark spots in the vision, Dry and itchy eyes, Seeing flashes of lights, etc.
• For the second opinion for the eye-related disease.
• To show diagnostic reports to clarify about eyes health.
Book Doctor Appointment in Patna
Find and Book Patna Top Eye Specialist in patna
Frequently Asked Questions about eye-specialist and related Diseases
What are some of the most common eye diseases that affect people ?
Eyes diseases can occur at any age of life, however it mostly hit as the age passes. Some of the most common eye problems include cataract surgery, nearsightedness, night blindness, glaucoma, macular degeneration, dry eye, red eye, colorblindness, uveitis, blurred vision, eye pain, retinal disorder, diabetic retinopathy, eyestrain, corneal diseases, lasik surgery, eyelid problems etc.
How can you consult the best ophthalmologist through doctoriduniya.com?
At doctoriduniya, you can access a list of the best ophthalmologists, best eye specialists, best eye surgeon, best eye doctor and best eye surgery hospitals, book online appointment and consult with them. In any medical emergency feel free to visit at, www.doctoriduniya.com.
What are the common signs and symptoms of eye diseases?
Symptoms depend upon the eye problem which usually includes eye pain, recurrent pain around the eye, blurred or double vision, bright floating spot, sensitivity to light, red eyes, a sudden change in vision, discharge from the eye, changes in the color of eyes, itching, and burning, etc.
What causes conjunctivitis (pinkeye)?
Conjunctivitis is a highly contagious eye disease which is associated with symptoms such as thick yellow or white discharge, redness, itchiness, inflammation, burning sensation, blurred vision, increased sensitivity to light, etc. Viral or bacterial infection, irritants of dirt or smoke, and dust allergy are common concerns.
What kind of tests is required to diagnose eye diseases?
Some of the most common test to diagnose eye diseases are color blindness test, cover test, ocular motility (eye movements) testing, stereopsis (depth perception) test, retinoscopy, refraction, slit lamp exam, the glaucoma test, pupil dilation, visual field test, visual acuity tests, tonometry, ophthalmoscopy, gonioscopy, visual field testing, nerve fiber analysis, pachymetry etc.
What causes eye disease?
All eye diseases do not lead to complete vision loss. Some eye problem causes temporary discomfort and can be easily treated. Some of the top causes of eye diseases are a bacterial, viral or fungal infection, external injury, genetics, diabetes, migraine, allergies, high blood pressure, hyperthyroidism, medication, etc.
Can an Ophthalmologist perform Cataract Surgery ?
An Eye Surgeon or Ophthalmologist can perform cataract surgery. Cataract surgery is a brittle procedure performed by a specially trained ophthalmologist or eye specialist. Cataract surgery is an eye surgery to remove the lens of your eye when it is become cloudy. In the process of cataract surgery, cloudy natural eye lens is removed and replaced with a clear artificial eye lens.
Can an Ophthalmologist perform Lasik surgery ?
An Eye Surgeon or Ophthalmologist can perform Lasik surgery. Lasik eye surgery commonly referred to as laser eye surgery or laser vision correction, Lasik Surgery procedure used for treat nearsightedness, farsightedness and astigmatism. A laser is used to reshape the cornea and front part of the eye.
What is difference between Ophthalmologist and Optometrist ?
Ophthalmologist and optometrist are two different specialty in eye care. An ophthalmologist deal with all eye disease, performs eye surgery, diagnose and treat all kind of vision problems. An optometrist is eye doctor with degree of doctor of optometry. Optometrist deal with primary vision care, eye sight test, eye exams and vision tests.